New design complete washdown pump kit. Includes everything you need to wash away dirty and grim.
Application:
*Ideal for cleaning leisure boats,fish boxes,anchor chains and dinghies.
*Agriculture/Yacht/RV/Caravan pressurized water system
*Cleaning machine,Humidifier,Water purification,Medical apparatus
*Any other pressurization system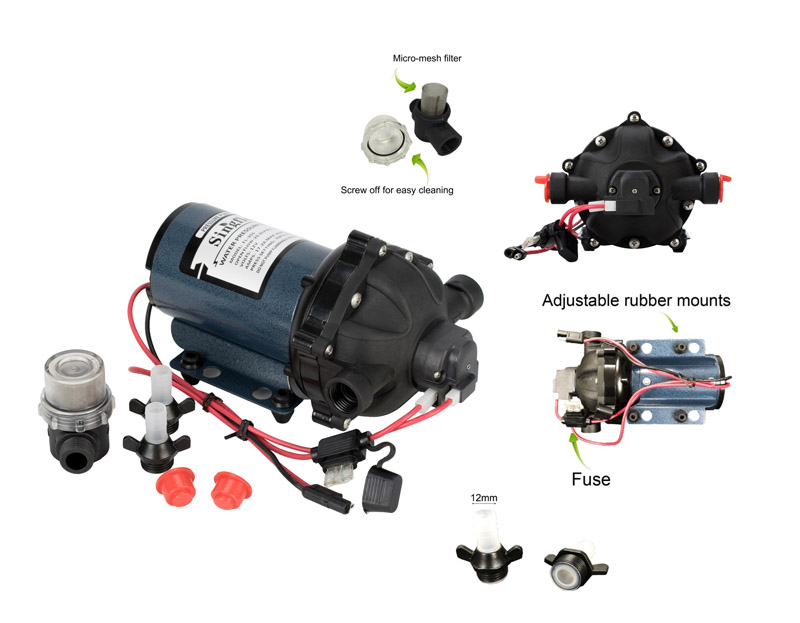 Features & Benefits
*Built with Honey well pressure switch
*Built with 25A fuse
*5 Chamber Positive displacement diaphragm pump for smooth and quiet flow
*Self-priming 12v pump with pressure switch control.
*Multi-step corrosion protection and seamless motor body for enhanced protection in any wet environment.
*Rubber mounting feet for corrosion protection and noise reduction
*Run dry without damage
Standard Pump Configuration
Model
Volt

Flow rate

LPM(GPM)

Pressure

PSI(BAR)

Amp Draw(A)
Switch
Diaphragm
Ports
Wire Connections
HY-30601T
12
11.5(3.0)
60(4.1)
6.0
Demand
Santoprene
1/2''-14 FMNPT
2-pin/Leads
HY-30602T
24
11.5(3.0)
60(4.1)
3.5
Demand
Santoprene
1/2''-14 FMNPT
2-pin/Leads
HY-40601T

12
15.0(4.0)
60(4.1)

7.0
Demand
Santoprene
1/2''-14 FMNPT

2-pin/Leads

HY-40602T
24
15.0(4.0)
60(4.1)
4.0
Demand
Santoprene
1/2''-14 FMNPT

2-pin/Leads

HY-55601T

12
20.8(5.5)
60(4.1)
8.0
Demand
Santoprene
1/2''-14 FMNPT

2-pin/Leads

HY-55602T

24
20.8(5.5)
60(4.1)
5.0
Demand
Santoprene
1/2''-14 FMNPT

2-pin/Leads

HY-55701T
12
20.8(5.5
70(4.8)
8.0
Demand
Santoprene
1/2''-14 FMNPT

2-pin/Leads

HY-55702T
24
20.8(5.5)
70(4.8)
5.0
Demand
Santoprene
1/2''-14 FMNPT

2-pin/Leads

Drawing of Deck washdown pump