FL-43 Marine self-priming water pump is ideal for use in any area that requires pressurised water transfer.
Easy to operate and self priming it will gives years of service.
Perfect for your shower and a couple of outlets in your caravan,boat,shed or while camping. They are portable and easy to set up.
Use it on a timed sprinkler to water the veggies in your garden.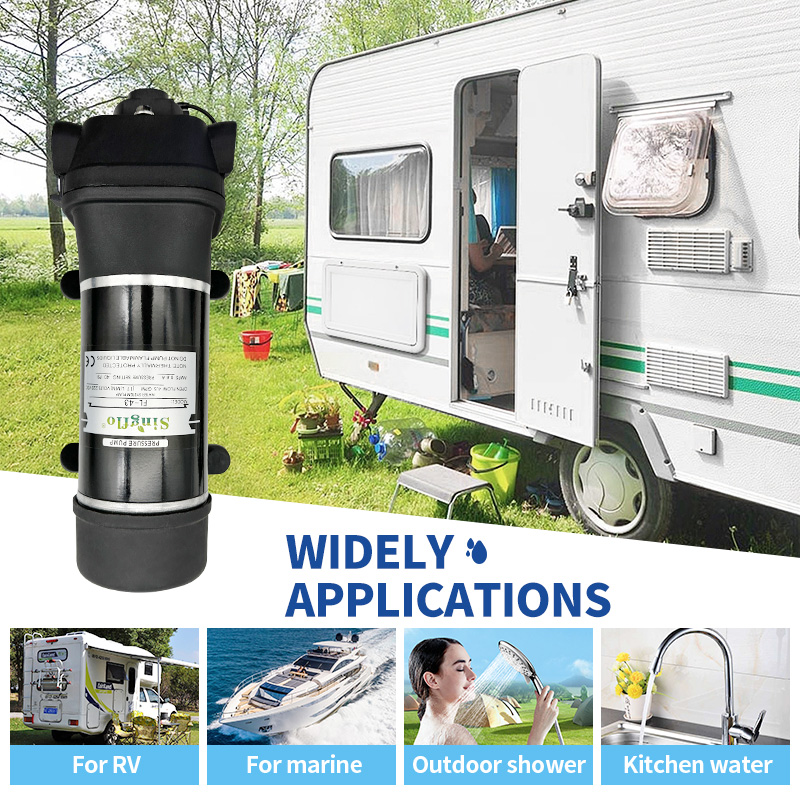 Special Function
*This is automatic demand water system pump has a built-in pressure switch,
which automatically starts and stops when the fixture is opened and closed.
*Easy to install,service and winterize.
*Self Priming
*Built-in Check valve
*Thermally Protected
Motor
Type:Permanent magnet,Thermally Protected
Duty Cycle:work intermittent
Pump
Type:4-chamber positive displacement
Liquid Temperature :140ºF(60°C)Maximum
Priming Capacbilities: 6 feet (1.8m) suction lift
Pump able to run dry without damage
Check Valve: (1-way operation) Prevents Reverse Flow

STANDARD PUMP CONFIGURATION
Model
Volt

Flow rate

LPM(GPM)

Pressure

PSI(BAR)

Amp Draw(A)
Bypass
FL-30
12
10(2.63)
17(1.17)
2.2
NO
FL-31
24
10(2.63)
17(1.17)
1.5
NO
FL-35
12
12.5(3.29)
35(2.41)
7
NO
FL-34
24
12.5(3.29)
35(2.41)
4
NO
FL-40
12
17(4.47)
40(2.76)
9.2
NO
FL-60
12
17(4.47)
60(4.14)
15
NO
FL-44
24
17(4.47)
40(2.76)
5.6
NO
FL-33
115
12.5(3.29)
35(2.41)
0.5
NO
FL-32
220
12.5(3.29)
35(2.41)
0.4
NO
FL-41
115
17(4.47)
40(2.76)
0.5
NO
FL-43
220
17(4.47)
40(2.76)
0.8
NO


More Details of Singflo AC diaphragm pump