A complete washdown deck pump kits. Includes everything you need to wash away dirty and grim.
Application:
*Ideal for cleaning leisure boats,fish boxes,anchor chains and dinghies.
*Agriculture/Yacht/RV/Caravan pressurized water system
*Cleaning machine,Humidifier,Water purification,Medical apparatus
*Any other pressurization system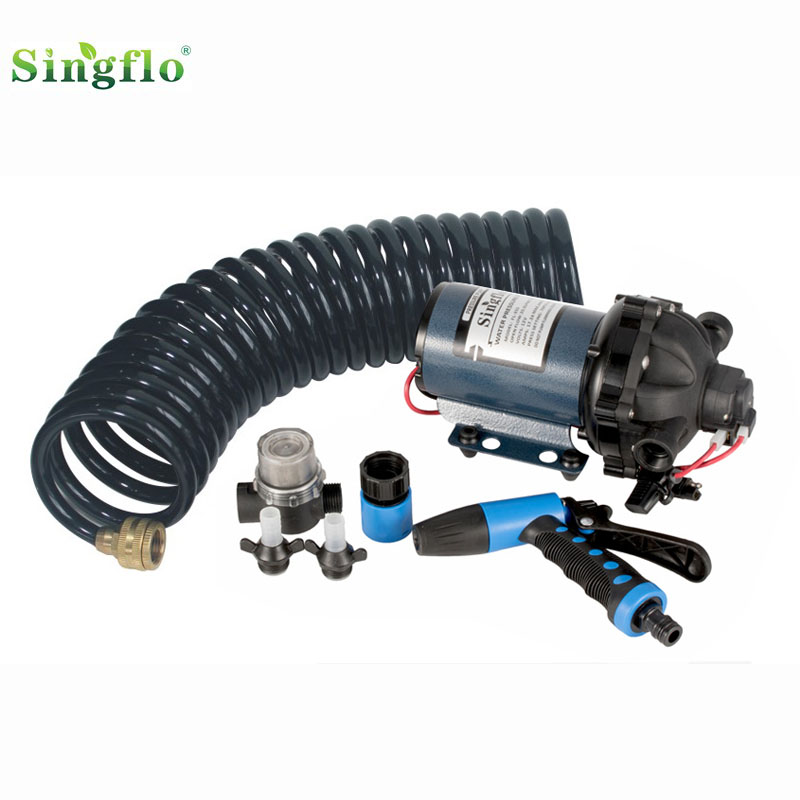 12V washdown pump Features:
- High Quality Washdown Pump Kit for Tough Wash-Down Applications
- Ideal for Cleaning Deck,Boats,Caravans,Fish Boxes,etc.
- Easy to Use & Setup,Smooth and Silent Operation
- Powerful Automatic High Pressure Washdown Pump
- Extremely Efficient,High Capacity Output
- Overheat Protection Cut Off
- Rubber Feet for Permanent Mounting Absorb Any Vibration or Noise
- Suits Liquid With Weak Acid or Alkaline,Weed Sprayers & Salt Water
- Easy to Use & Setup
- Auto Cut-off Pressure Switch
- Run Dry Without Damage
Deck pump Specifications:
- 6.5m Hose
- Voltage: 12V
- Max.Amps: 17.5.0A
- Open Flow: 20L/min
- Pressure Setting: 70PSI
- 12mm Straight Barbed Fittings
- Self-Priming Up to 1.8m Vertical
Package:
- 1 x 12V Pump
- 1 x Trigger Nozzle
- 1 x Coil hose
- 1 x Quick Connect Adapter
- 1 x Inlet Filter/strainer
- 2 x Brass Fittings
- 2 x Straight Barbed Fittings
- 1 x Instruction Manual
Standard Pump Configuration
Model
Volt

Flow rate

LPM(GPM)

Pressure

PSI(BAR)

Amp Draw(A)
Switch
Valves

Diaphragm
Ports
Wire Connections
FL-35S
12
18.9(5.0)
70(4.8)
18
Demand
EPDM
Santoprene
1/2''-14 FNPT
2-pin/Leads
FL-35S
24
18.9(5.0)
70(4.8)
9.0
Demand
EPDM
Santoprene
1/2''-14 FNPT
2-pin/Leads
Details of Deck washdown pump