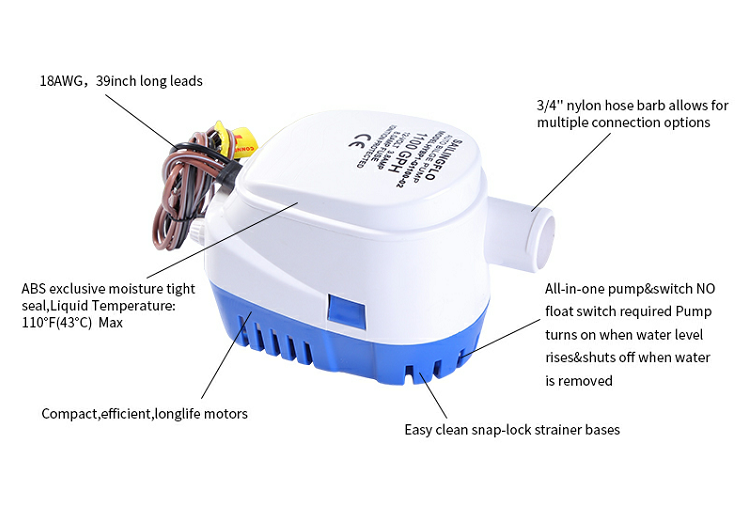 DESCRIPTION
*The submersible auto bilge pumps are equipped with built in electronic controlled reed sensor system to make fully automatic operation easy.
*No separate float switch is needed and relay loop design protect the pump against instant high currents.
*No power use until pump turns on when water rises.(Auto bilge pump)
*All (auto)bilge pumps are built with compact, rust and corrosion protected stainless steel shaft, high-impact durable and thermoplastic ABS plastic housing.
*Small size, high efficiency, low current to achieve a small size perfect combination of high flow.
*Totally submersible with anti airlock design and moisture tight seals.
*To all existing safety standard.
*Snap-lock strainer base for easy installation and removal and silent vibration free running.
*Connections: For 19mm (3/4") bore hose.
*Limited one year warranty
Automatic bilge pumps can be used with switch panel for manual override
Includes comprehensive user manual with installation instructions and wiring diagram.
Typically used in boat hulls/bilges Bait tanks, Ponds,Pools spas etc.
TECHNICAL DATA
| | | | | | | |
| --- | --- | --- | --- | --- | --- | --- |
| Model | Flow Rate | Volts | Current | Head | Wire | Outlet Dia |
| HYBP1-G600-02 | 600GPH | 12V | 2.5A | 2.5M | 100CM | 19MM |
| HYBP2-G600-02 | 600GPH | 24V | 1.5A | 2.5M | 100CM | 19MM |
| HYBP1-G750-02 | 750GPH | 12V | 3.0A | 3.0M | 100CM | 19MM |
| HYBP2-G750-02 | 750GPH | 24V | 1.6A | 3.0M | 100CM | 19MM |
| HYBP1-G1100-02 | 1100GPH | 12V | 3.8A | 5.0M | 100CM | 29MM |
| HYBP2-G1100-02 | 1100GPH | 24V | 2.0A | 5.0M | 100CM | 29MM |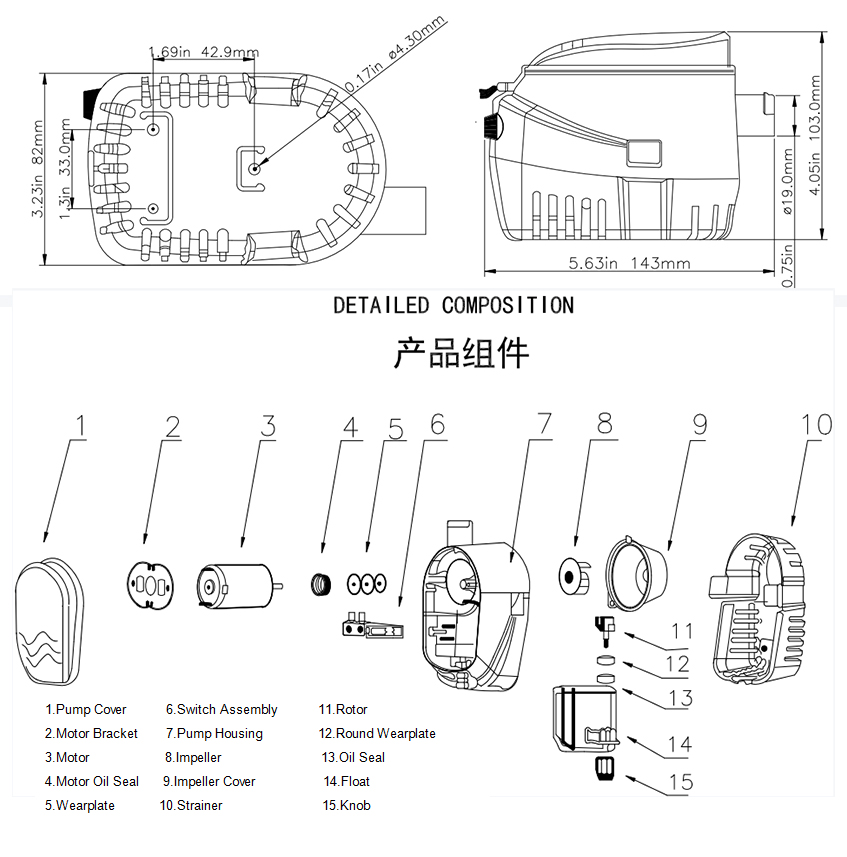 | | | | | | |
| --- | --- | --- | --- | --- | --- |
| Key | Description | Quantity | Key | Description | Quantity |
| 1 | Pump Cover | 1 | 9 | Impeller Cover | 1 |
| 2 | Motor Bracket | 1 | 10 | Strainer | 1 |
| 3 | Motor | 2 | 11 | Rotro | 1 |
| 4 | Motor Oil Seal | 1 | 12 | Round Wearplate | 1 |
| 5 | Wearplate | 1 | 13 | Oil Seal | 1 |
| 6 | Switch Assembly | 1 | 14 | Float | 1 |
| 7 | Pump Housing | 1 | 15 | Knob | 1 |
| 8 | Impeller | 1 | | | |