FL-40 RV water pressure pump is ideal for use in any area that requires pressurised water transfer.
Easy to operate and self priming it will gives years of service.
Perfect for your shower and a couple of outlets in your caravan,boat,shed or while camping. They are portable and easy to set up.
Use it on a timed sprinkler to water the veges in your garden.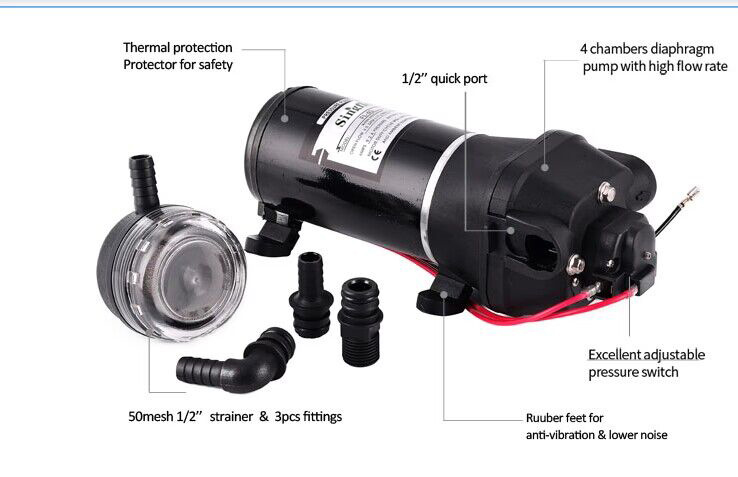 Special Function
*An automatic pressure switch ensures easy operation as it turns itself off and on as you demand the water.
*Easy to install and has a smooth and quiet operation. It is happy pumping both fresh or salt water and comes with its own filter.
It will supply water to up to 4 taps. a shower and a toilet.
*It is corrosion resistant and can run dry without damage. The pump will even self prime making life easy. If you have several taps wanting different pressures or flow then an accumulator tank is recommended to supply pressure to variety of outlets as they need it.
*Built-in chec valve
*Thermally Protected
The explosive view of on demand water pump

STANDARD PUMP CONFIGURATION
Model
Volt

Flow rate

LPM(GPM)

Pressure

PSI(BAR)

Amp Draw(A)
Bypass
FL-30
12
10(2.63)
17(1.17)
2.2
NO
FL-31
24
10(2.63)
17(1.17)
1.5
NO
FL-35
12
12.5(3.29)
35(2.41)
7
NO
FL-34
24
12.5(3.29)
35(2.41)
4
NO
FL-40
12
17(4.47)
40(2.76)
9.2
NO
FL-44
24
17(4.47)
40(2.76)
5.6
NO
FL-33
115
12.5(3.29)
35(2.41)
0.5
NO
FL-32
220
12.5(3.29)
35(2.41)
0.4
NO
FL-41
115
17(4.47)
40(2.76)
0.5
NO
FL-43
220
17(4.47)
40(2.76)
0.8
NO
Dimension of RV fresh pump

Details pictures: